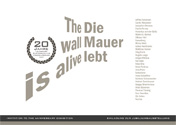 Oleg Kulik, 2004 | Kaeseberg, 2004 | Hubertus von der Goltz, 2004 | Jürgen Möbius, 2005 | Yoko Ono, 2005 | Salustiano, 2005 | Garda Alexander, 2006 | Heinz Schaffner, 2006 Kaeseberg, 2006 | Koester, 2007 | Martin Herbst, 2007 | Not Vital, 2008 | Jeffrey Aaronson, 2008 | Oleg Kulik, 2008 | Jaqueline Devreux, 2009 | Henri Deparade, 2009 | Your Favorites, 2009 | Yun Lee, 2009 | The Wall is Alive - Jubiläumsausstellung, 2009 | Michael Noble 2010 | Korea Ausstellung 2011 | Zeichen & Mythen 2013 | Vibrationen 2013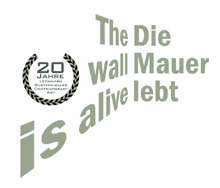 INVITATION
leonhard ruethmueller | contemporary art

20 Years Anniversary Exhibition
December 15 | 2009- January 30 | 2010
Hall 33
Corner Riehentorstrasse/Claragraben
4058 Basel, Switzerland




16.12.2009 - 30.01.2010

Galerie leonhard ruethmueller | contemporary art,
is pleased to announce its 20 Years Anniversary Exhibition with works from:

Jeffrey Aaronson, Garda Alexander, Jacquline Devreux, Dasha Fursey, Hubertus von der Goltz, Martin C. Herbst,Ottmar Hörl, Kaeseberg, Micha Klein, Valery Koshliakov, Matthias Köster, Oleg Kulik, Angela Lergo, Jürgen Möbius, Not Vital, Yoko Ono, Anna Parkina, Irina Polin, Salustiano, Heinz Schaffner, Barbara Schaubacher, Helmut Sennhauser, Sergey Shekhovtsov, Vitas Stasunas, Thomas Thüring, Your favorites, Qin Yufen, Yun Lee.


The wall is alive, in this way the gallery Leonhard Ruethmueller opened as a hundredth gallery its first exhibition in 1989, in Basel. 143 exhibitions and exactly 20 years later, we cordially invite you to our birthday and jubilee exhibition into the Hall 33. Around 30 international artists of gallery's programme from the beginning until today will present an exciting selection of works on canvas and paper, sculptures, objects and installations.


Exhibition dates: 16. December to 30. January 2010
We cordially invite you and your friends to our Vernissage Preview on Tuesday 15 December 2009, from 18 pm.

Location: Hall 33, Riehentorstrasse 33/Corner Claragraben;
Tram 15/2, Bus 34/38/31 Station Wettsteinplatz

Exhibition opening hours:
Monday to Friday 15.00 – 19.00 pm | Saturday: 11.00 – 17.00 pm.

Closed from 24. December till 3. January 2010.


The gallery at the Gerbergasse remains closed during the jubilee exhibition. Please note the revised opening hours during the holidays. Finissage 29. January 2010.

Please find enclosed the invitation.
We are looking forward to see you at the 20 Years Anniversary Exhibition.

DOWNLOAD INVITATION HERE


---
leonhard ruethmueller | contemporary art
Gerbergasse 3
CH–4001 Basel, Switzerland
phone +41 61 263 14 88
office@ruethmueller.ch
www.ruethmueller.ch